The days when wood or aluminum siding would be your only home siding options are long gone. Nothing will affect the appearance of your home more dramatically than the exterior you choose. Whether you're remodeling your home or building a new one, look for a material that suits the architectural style of your house and also fits your lifestyle. Lyons Roofing Company can also aid you in choosing the best color, type, and style to fit your budget.
What is Siding?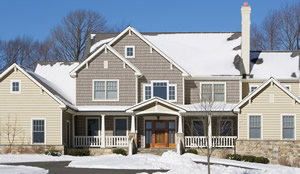 Home siding is an outer covering of a house whose purpose is to shed water and protect it from the effects of all different kinds of weather. Making sure your siding is in the best shape can preserve your house for much longer than if left to the elements. Drew Brandt, director of product marketing for CertainTeed Corporation, a global manufacturer of exterior and interior building products, says siding is the best way to keep a home in shape and has had it installed in his own home.
Types of Siding
When you are looking at the options that are available for your home – whether you're renovating the property or you are going to be building a new home – there are a number of things that you will want to consider. One of the primary choices you will need to make when you choose involves the siding material you will use.
Vinyl. This material is the most commonly known and used. Vinyl will not provide insulation for the home unless an insulation backing is added (i.e. foam-backed vinyl). The low cost, ease of installation and the low maintenance required for the upkeep of this material makes it one of the most popular choices. Today's vinyl siding is in a greater range of colors and textures and resists heat and damage better than earlier versions.
Composite. This type of siding is available in different materials, including fiber cement, aluminum, and asphalt. Composite siding, which comes in the form of shingles or boards, is installed like wood and there are many different types of trim. Because composite siding is manufactured in different shapes and can be used with different trims and accessories, the installer is better able to customize a look to the homeowner's specifications.
Wood. The natural look this siding creates is appealing to many homeowners — not to mention the inexpensive price tag. Types include clapboard, plywood, hardboard/composition, rectangular plank, cedar, and wood plank. But wood is the least-used today simply because it doesn't perform well in harsh weather conditions and is also an easy way to attract unwanted pests.
When is it Time to Replace My Siding?
Like your roof, you expect your siding to last as long as you own your home.  Sun, the wind, and storms may damage your exterior covering over time.  Here are a few items to look for and determine if it is time to replace your siding.
Perform a close-up inspection of any siding appearing warped. Using a screwdriver, poke beneath the warped area and note how firm the layer under feels. If this layer feels rotted in any way, it's probably time to replace your siding.
Surprisingly, a couple of signs that may indicate failing siding are noticeable from inside the home. If you're experiencing peeling paint or sagging wallpaper, it may be because your aging siding is allowing moisture to seep beneath it and into your wallboard. This can damage your home's interior walls, so it's something you should get checked out as soon as possible to prevent any mold or mildew issues from forming.
Dry rot, one of the more common problems with wood siding, is not always visible to the naked eye. To detect it, tap various areas of the siding with the bottom of a screwdriver or hammer. This will expose an area that has succumbed to dry rot, as only the topmost layer of siding will be intact. If dry rot is discovered, you may be able to get away with just replacing the damaged sections, but oftentimes contractors will recommend a full replacement. Since dry rot may compromise the structural integrity of your home, it's definitely an area where you'll want to defer to the experts.
Call Now for Your Free Roof Evaluation & Estimate
Serving Southern Indiana and Louisville, Kentucky Areas
Licensed, Bonded, & Insured