Replace a Damaged Shingle
Everyone at some point in their homeownership is faced with a damaged shingle or twenty. How hard is it to replace a damaged shingle you ask? Not hard at all, I know easier said than done, how about we walk you through it real quick!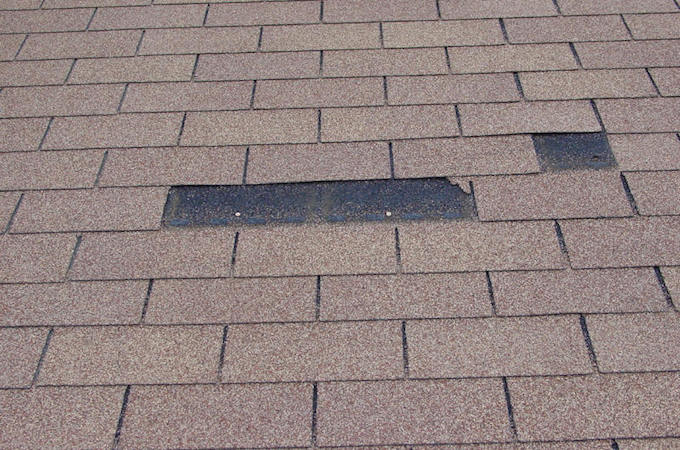 The hardest part of replacing a shingle is getting the correct match on the color. There are two ways to handle it. One, you can take the damaged part into your local roofing supply company or even Lowes or Home Depot and they will match the color up for you quickly.
The second option you have if your shingle is one that is discontinued. Remove the shingle from a less noticeable slope of the home, replace that shingle with a close match. Then move the old shingle to the original damaged location. This gives your home a uniform look on the more visible slope.
How to replace a damaged shingle
Insert a putty knife or flat pry bar under and above the damaged shingle to break the seals holding the shingle down.
Use the flat pry bar to pry up the damaged shingle and remove the nails. Be careful no to damage the shingles above and below it. (You will have to remove the nails from the shingle above as well)

Use a utility knife, to cut off the single tab if your home is a 3-tab shingle or remove the entire shingle.
Slide the new shingle or tab in place, secure it under the shingle above with at a minimum 1" roofing nail.
Once the damaged shingle is replaced, lift the tab up and apply a small amount of roof cement of silicone to help adhere the shingle.
Want someone else to replace your damaged shingle
If you do not feel comfortable on your roof, or not sure you completely understand the process. Call your local roofing contractor for help, repairs are completed shortly and carry a full warranty.