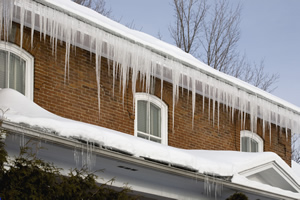 A house is typically a family's biggest investment. Routine maintenance on a house is essential for maximum usefulness and longevity. Being prepared for a harsh Kentucky winter is the key to avoiding costly repairs that can add up unexpectedly. One of the main parts of a house that needs to be inspected is the roof.
Inspect Your Roof
There are several ways to inspect a roof. With a good pair of binoculars, a homeowner may be able to inspect the roof. The best way to take a really good look at the roof is to climb up on top of the house to get a better assessment. You should look for loose, cracked, worn or damaged shingles. The most commonly used roofing shingles will feel like sandpaper when they are in good condition. When shingles are worn, the granules will begin to loosen and will detach easily. This is a good sign the shingles need to be replaced.
Clean Out Gutters
Clogged gutters also present a big challenge. Gutters allow the water to run off properly. When they are clogged, water can back up under the shingles and cause damage by forming a dam. If the gutters are not cleaned often, debris can start to gather on top of the roof and accelerate the wear on the shingles.
Scrutinize Roof Flashing
Another area to inspect would be the roof flashing around the chimney and other vents. The flashing should not be worn and it should be installed properly. The flashing creates a barrier that helps keep moisture from getting into the house.
Survey Roof Interior
A good inspection should include checking out the interior of the house as well. Any areas where there are water spots on the ceiling are cause for concern. If you have an attic or crawlspace, then the wood can be inspected that supports the shingles as well. Look for any sagging spots or damaged and rotten wood.
Contact Professional Roofing Contractor with Concerns
There are some minor repairs that can be done by the homeowner, but due to the safety issues that climbing on top of a roof presents, it may be best left to an expert. A trained roofing professional will able to properly identify any current or potential problems. Left unchecked, roofing issues can cause other major problems like foundation problems which can be costly.
Having your roof routinely inspected by a professional Kentucky roofing contractor will help preserve your home for many years. An experienced roofing company will be able to see issues that may be overlooked by the untrained eye. When searching for a reputable roofing company be sure get several references. A quality roofing company will have no problem giving you previous customers to contact on their behalf. They should also be available to make any emergency visits to assist you with repairs.
Now is the best time to get your roof prepared for a Kentucky winter. Do not assume that everything will be okay based on what has happened in previous years. All things change with time and circumstance and your roof condition is no exception.
Call Now for Your Free Roof Evaluation & Estimate
Serving Southern Indiana and Louisville, Kentucky Areas
Licensed, Bonded, & Insured