I know common sense right. What do we mean by "look up" to find a roof leak? The first step after you find a water stain in your home is to take a walk outside. Make sure in your mind you pinpoint where the leak is inside the home in relation to outside. Look up your roofline; do you see any penetrations, pipes, vents etc.? If not, are there any valleys or walls in that immediate area?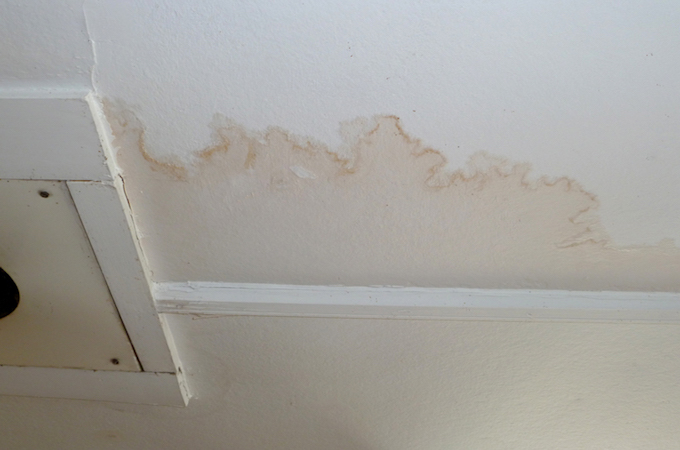 Take your search for a roof leak a step higher
If you do not see anything from the ground take it a step higher! Literally, climb up in the attic and look around. Find the leak in the attic, looking for any signs of water damage on the roof deck or even wet insulation. Follow the trail up the roof deck and see where it comes from. Is there a penetration or does it run into a valley or wall area?
Give it a shot of water
If neither of those options work for you, try using a helper with a water hose. Spray the areas that you think may be causing the problem, do not spray water directly into any penetrations through the roof! Run water around your pipes or vents, down the shingle line of a wall or straight down the valley. In the case of a brick wall along your roofline if the shingles or flashing does not cause a roof leak in the home, spray the brick. It is a possibility that the brick has become porous over the years and is absorbing the water, causing a leak.
If none of these attempts works, call a local roofing contractor. They have the experience and the know how to find and repair roof leaks quickly and permanently to protect your greatest investment.